How I felt this week: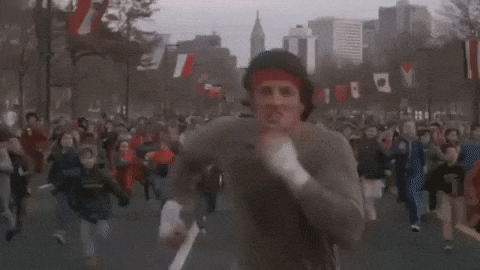 Sunday: Sunny Sunday here in Boise. Saw my first snake of the season, some natural artwork left by a fellow Idahoan, and even ran into a friend biking the path with her crew.
Monday: Mondays are supposed to be my day off from running, but I decided to get the family out. They rode bikes and I ran along beside them. It was hot, but fun was had by all (most of the time). I am proud of B–9.5 kilometers on a bike in mid-day sun isn't easy and he is only six. We took a break at the turn around point to get artisan fries at the Boise Fry Company. Check out the sauce collection!
Tuesday: A quiet morning out on the greenbelt listening to my audiobook. Not many people out on this Tuesday sunny morning. I slept 9.5 hours last night and I think that is why I was able to do a 5:14/km pace. Hope I can keep this pace going!
Wednesday: I was feeling the fresh air and sunshine. I took it somewhat easy as I can feel my body may need to take a day off soon. I am on a two week streak currently.
Thursday: Hit the trails today. It is always good for me to do hill work. I can tell my legs aren't as used to going up hill so it challenges me in all the right ways. The morning was quiet and peaceful–grateful to be in Idaho this summer.
Friday: I have been putting off taking a day off. However, today was that day. On my rest day, we went on a family hike up into the pine trees of Bogus.
Saturday: I upped the challenge today and brought Lady H along. She loved it, and I got my heart rate up. It was also a great bonding experience.